Ear Piercing
Your "Safety" Is Our Top Priority!

So.....

Be Aware!!! Not all Ear Piercing Systems are Alike!

What you "NEED" to know before your next "SAFE" ear piercing....

Most ear piercing systems utilize "exposed posts" systems. What does this mean for you?
Other Systems Cartridge
Exposed Posts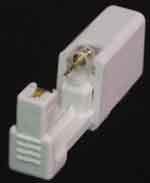 Systems with "exposed posts" can be contaminated before the actual piercing process. With some ear piercing systems, the earrings can actually "fall out" of the gun, causing possible contamination. These systems use thick blunt earring posts and pierce ears utilizing a spring loaded gun with a maximum pressure
---
Inverness System Cartridge
Non Exposed Posts
(Fully Encapsulated).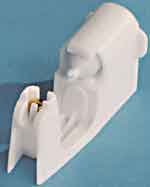 The Inverness ear piercing systems are the only "fully encapsulated" systems on the market today. By encapsulating the post and providing a lock in clutch, this system is fully sterile - no contamination, "exposed posts" or falling parts. Our system pierces ears with sharp thin posts, jewelry quality, and with a hand pressured instrument (not a gun), delivering the "most gentle" and "sterile" ear piercing.


Only Inverness ear piercing systems utilize this type of advanced technology. Earrings cannot be touched or contaminated before or during the ear piercing process. Guaranteed complete sterility throughout the entire piercing process - safe and gentle.
---
Price $15 + Cost of Earring