Hair Extensions
What Is Hair Fusion?

Starting at $100.00/hr


Hair fusion is a technique for attaching hair extensions to the head. It involves fusing small groups of natural hair strands together with a Keratin adhesive. This method is longer-lasting than other hair extension methods and makes a person's hair appear longer and fuller.

Why is fusion better?
Fusion is the longest lasting of all techniques.This method can last for up to 3 months. You will not have any bulkiness, create any hair stress or experience any discomfort. It is the most natural looking, longest lasting without damaging hair.

Will Extension Cause Harm to my Natural Hair?

Fusion is one of the best things in that the bond is natural Keratin, which is what our hair is made of. There is absolutely no glue or polywax used and are damaging to fine hair. With proper after care and the use of state-of-the-art professional tools and proper application your hair will not damage. This is a very gentle application and does not cause stress to your natural hair. Damage will not be done during the removal of the extensions. This is the preferred method for those with fine hair.

Linked Hair Extensions
Starting at $100.00
Linking is not fused in, it is simply linked in. If you care for your extensions and follow the proper aftercare guidelines you will not damage your hair. Damage is done when you don't take care of your investment and when you go to long between maintenance appointments. This is a preferred method for those with medium to thick hair.

Weaved Hair Extensions
Starting at $125.00
Weaving is by far the most popular technique. Weaving is a process where a corn row or track is created around the head and close to the scalp. Extension hair is sewn on the tracks. Your own hair lies over the tracks for a natural look. Depending upon how much hair you need depends on how many tracks you have. For example: If you had hair to your chin and you wanted hair to your bra line (about 18" long) you might need 5 or 6 tracks/wefts depending upon my current haircut. If you had hair to your shoulders that was thin and stringy and you wanted it thicker and more luscious but the same length you might need 2 or 3 (or more) tracks/wefts. Once the tracks are done, the wefts are sewn to them and then your own crown area hair is blended with and combed over the extensions. From now on you have to think of the extensions as YOUR HAIR.



---
Ethnic Hair Prices


Basic wash and style Shampoo, express conditioner , and basic style such as flat iron or hot curl $35 and up 45 min.

Bob Quick weave or longer Includes shampoo, express conditioner, braid up, cap and bonded hair style $65 and up 2 hr.

Full sew in (no hair left out) Includes shampoo, express conditioner, braid- up, sew- in and style(flat iron or loose curls) $175 and up 2 hr., 30 min.

Natural hair Shampoo and style Shampoo, express conditioner, basic style such as flat iron or hot curl $45 and up 1 hr., 15 min.

Precision hair Cut and Style Hair cut and style Includes shampoo, express conditioner, and style $55 and up 2 hr.

Relaxer retouch New growth touch up Includes deep condition and style (flat iron or hot curl) $65 and up 1 hr., 15 min.

Sew in with Minimal leave out Includes shampoo, express conditioner, braid- up, sew- in and style(flat iron or loose curls) $135 and up 2 hr., 30 min.

Virgin relaxer Virgin relaxer is a relaxer on hair that is natural or has not need relaxed in a long period of ... $70 and up 1 hr., 45 min.

Vixen sew in Includes shampoo, express conditioner, braid- up, sew- in and style(flat iron or loose curls) $150 and up 2 hr., 30 min.

Dreads

dread re-twist $55 and up 1 hr., 30 min.
natural twists $55 1 hr., 15 min.
twist with hair added into bun $55 and up 1 hr., 45 min.
dreads initial dread locking $75 and up 2 hr., 30 min.
Vixen Hair Extensions
This type of weaving allows you more versatility. You can wear your hair in a bun, ponytail, to a side part without seeing the weaving.
If you love change, this is the one for you.


---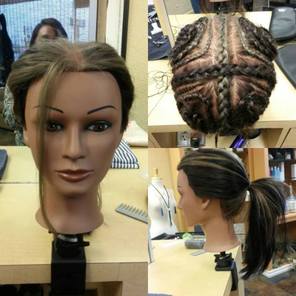 Not Just for Woman! Men Can Have This Done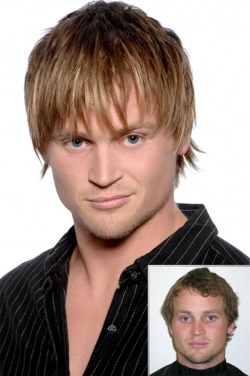 ---
Long Luxurious Hair… The stuff dreams are made of
You will need to come in about three days before the day of your appointment. You and the stylist will discuss the style, color, texture and desired length of the extension you will be receiving. If you have a picture of something you have in mind, please bring it. After the consultation, you will need to place a deposit for the hair to be ordered and to schedule the appointment.


It usually takes 1 ½ to 4 hours depending on the style you want to achieve. Sewn extensions will last 6 to 8 weeks, depending on several factors.
How fast your hair grows.
If they are cared for properly.
The length of your natural hair.

Visit your stylist every 6 to 8 weeks for maintenance. They will check to be sure everything is still holding well, repair extensions if needed and suggest further care instructions specifically for you.



If a track should become loose or fall out, call you stylist. The stylist can put the track in. It does not mean the rest of the extensions will have to be sewn-in back in. It is normal to lose a few attachments as time goes on.


Advice: You will need to make sure, you have the time needed to dedicate yourself to proper maintenance of our extensions.



The higher, the stylist goes up on your head the less blending that will have to be done. Your natural hair will not be cut, just the extension hair.



If extensions are not taken out properly, the removal process could damage your natural hair.



Pro's in Having Extensions:



Extension can be a great accessory for special occasion like weddings, proms, homecoming, birthdays, parties, etc… Also, some women have problems with their hair thinning on top. Sewn-in extensions can help to build volume and length to your hair. Remember: After the extensions are in, there is extra weight that your scalp is not used to carrying around. They are available in a number of colors, lengths, and texture. They are available in curly and straight, but if your curly hair is straighten with iron and hair gets wet it will change back to curly. The hair is 100% human hair. If your natural hair has highlights or low-lights, we can color the extension hair to match your natural hair.



Great for short hair (must be at least 4 to 5 inches long), you are wanting to grow out.

Extensions are for everyone! No matter how old or young. No matter what your ethnic background is. Again, Extension are for everyone!



Taking Care of Your Extensions:



Step 1: Washing

Keep your hair clean. Hair tangles when the hair is dirty. Brush your hair and remove all tangles before washing. Wash your hair using a downward motion. Using a good quality shampoo and conditioner is a must, your stylist will advise you what product that is best for your hair.

Some shampoo's contain alcohol. Alcohol will make your hair dry. Use a good quality of shampoo. Your Hair Technician can recommend this for you.

Use a deep conditioner once a week. Deep conditioners help to keep the hair extensions healthy. Avoid gathering too much conditioner near the scalp, because it may cause them to weaken. Excess conditioner can also cause more product buildup, which can result in tangling and damage to the extensions.



Step 2: Styling


When brushing, use a soft bristle brush. Do not brush close to the scalp or harshly. Brushing close to the scalp will pull the extensions out. Use a heat protecting product if styling tools are to be used. Blow dryers, flat irons and curling irons can dry and damage hair quickly. Using a heat protector product helps to protect the hair.



Hair Treatments:


Don't perm, color or any other chemical process to your hair extensions. Let your stylist do it for you.



Swimming:


Wear a cap when swimming or try keeping your hair out of the water. Chlorine and salt water can cause the hair to tangle and mat up. If you do not have a cap, put your hair in a loose fitting ponytail.



Sleeping:

Never sleep with hair wet, make sure your hair is completely dry. Brush and braid onto a loose braid before going to bed.



Itching:

Do not scratch your head. Pat your head.